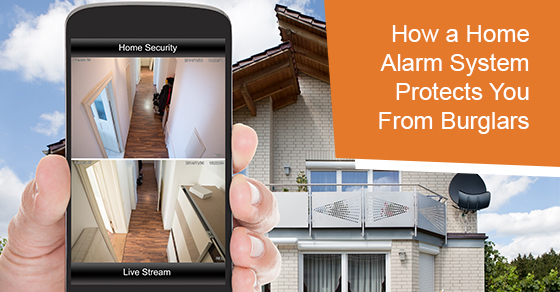 How a Home Alarm System Protects You From Burglars
What do you value most? For many people, it's the things you can't put a price on, like safety and peace of mind. Out of all the places in the world, there isn't—and shouldn't—be anywhere safer than your own home. After all, this is where you and your loved ones live, rest and recharge, make lasting memories, and store valuables. However, what happens when it becomes the least safe place you could ever be?
No one deserves to live in constant fear in their own home. A home alarm system is the master of all antidotes to this common fear. It effectively keeps any threat out of the front and back doors, so you can sleep soundly, go to work, and even go on vacation knowing that your home, loved ones, and assets are protected.
Are you worried for the safety of your loved ones and assets? Common property crimes are a lot less likely to occur—and are easier to solve—with a home guard alarm system in Toronto. When thieves are under threat of being watched and getting caught, they're easier to discourage and scare off.
Below, we will learn what exactly a complete home alarm system does to keep you safe:
GET AHEAD OF POTENTIAL LOSSES
In the past, many crime reduction efforts focused on catching the bad guys, and less on keeping them out in the first place. Some homeowners are also hesitant to invest in a home alarm system simply because they have never experienced a break-in. Until they're confronted with the threat of a burglary, they won't take any more proactive steps towards their safety.
Perhaps it's true; it can be quite abstract to measure the impact of preventing something that has not happened. A good way to assess whether you need a home alarm system is to look at what you stand to lose: what is the value of your assets, like jewelry, art, and electronics? How much would it cost to replace them, along with repairing damage in your home?
Confronting these numbers can be sobering. More so, many convicted burglars have mentioned that the first thing they look for is a weak point. If they don't see an alarm system, they're more likely to proceed with the burglary, but they move on to an easier target when they spot one.
ACCESS CONTROL AND ENTRY ALERTS
It's simple: anyone you don't personally know and has no business being inside your home shouldn't be allowed entry. While the basics, such as keeping doors and windows locked, and pathways well-lit, may discourage burglars, these might not be enough.
An alarm system controls access to your home to prevent unwanted entry. In the event of an alarm, the monitoring station will contact you call list, as well as, alert local law enforcement or dispatch a guard depending on your preferences.
VIDEO VERIFICATION
Who counts as a threat? Some homeowners may be wary of an alarm system due to false alarms, like in cases of mistaken identity. Earlier alarm systems were unmonitored—they simply sounded off and alerted homeowners to a possible intrusion, who then had to call the authorities themselves. However, who's watching your home when you can't keep your eyes on the screen?
Video verification technology is the latest in home alarm systems. This improves threat detection and monitoring, since the alarm and CCTV cameras are professionally monitored 24/7 – when an alarm is triggered the operator will verify they alarm by checking the CCTV cameras.
INSTANT NOTIFICATION
While alarm monitoring teams like a.p.i Alarm Inc. assess a threat, homeowners will also be notified. This real-time communication is especially helpful when you're away and unable to monitor the situation yourself. You can also count on the monitoring team to maintain a high-alert status until the police arrive and apprehend the burglars.
Home alarm systems dispense intruder alerts in a number of ways, including home phone lines, via smartphone, text message or email. Even if you're outside Toronto, you're guaranteed the latest updates on your home, its security, any break-in, and an emergency response.
MANAGE YOUR HOME AND PEACE OF MIND REMOTELY
Not sure if you locked the doors and enabled the alarm? Often, you don't have time to double back; besides, by the time you remember, you're already too far. The good news is that you can still guard your home.
Home alarm systems can be remotely activated. Now, you can easily manage your house no matter where you are. Arm and disarm the security system via a smartphone app, and tap into the live CCTV feed to see your house in real-time. Answer the front door with our smart video doorbell. You can even remotely unlock your door or open your garage with our smart door locks and garage controllers. The possibilities are endless.
INCREASED PROTECTION FOR LOWER INSURANCE RATES
A home alarm system provides you peace of mind—a safe place for the entire family and everything that matters to you. More than immediate security from threats like burglaries, though, you also save in the process. By taking steps to protect yourself from a burglary, you can also unlock lower insurance rates and discounts. All of these perks reward a proactive homeowner like you, and help protect your family for years to come.
To learn more about the benefits of a home alarm system and how it guards you and your loved ones from burglary attempts, call a.p.i ALARM at 1-833-987-0867, or contact us.