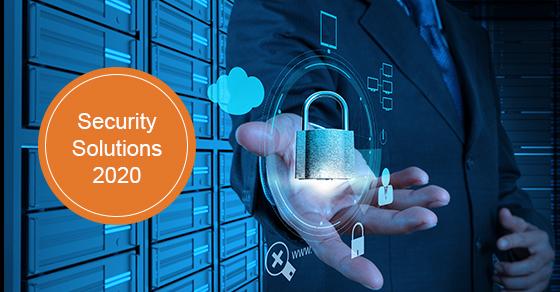 Security Solutions 2020
Each year technology and solutions available to keep your home or your business safe continue to advance. From interactive alarm systems that send you alert notifications and video clips to your Smartphone, to high quality access control systems for your business, there are multiple options available to ensure that your home and business are well protected.
a.p.i. Alarm Inc. is one of Canada's leading organizations for effective, cutting-edge security solutions. Experts in the installation and design of innovative networks, which can also be customized to meet the needs of your unique home or business..
At a.p.i Alarm Inc. our team is fully committed to embracing new technologies to ensure our clients are receiving best in class service. We are committed to Customer Excellence, we ensure our customers are aware of the technology at their disposal to achieve ultimate peace of mind.
Let's explore cutting edge security solutions available this year, and how we can help you take advantage of them.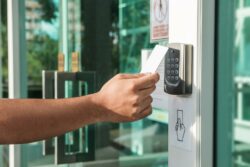 ACCESS CONTROL – A SAFE AND HYGIENIC SOLUTION
A well-designed access control system remains one of the most effective ways to protect your property. The purpose of an access control system is to restrict access to individual buildings, rooms, and property. Access control systems are favoured and approved in condominiums, office buildings and government institutions. Entrance is granted using a card, key fob or virtual pass code.
With Covid-19 upon us, a hands-free access control system will ensure your valued employees feel secure, and safe. Not only does this system ensure authorized individuals have proper access, it will advise you instantly of a security breach.
a.p.i. Alarm Inc. remains the top choice for Businesses interested in an access control solution.
Access control options can be entirely automated or manually controlled, allowing ultimate flexibility. In addition, as an added feature for Commercial clients, we also offer a Personal Emergency Response System for lone workers, which compliments our access control devices. Your employees will have piece of mind knowing api Alarm Inc. is available 24/7 should an emergency situation occur.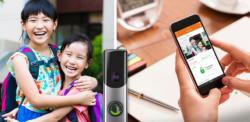 SMART DOORBELLS
Smart doorbells are changing the way people protect their homes. These intelligent devices are equipped with a camera and microphone, and offer a variety of features such as two-way communication and live video streaming to Wi-Fi enabled applications
When it comes to verifying who's at the door, and ensuring that you only open your door when you truly need to, a smart doorbell is essential.
Smart doorbells are part of the home automation wave that's taken the security industry by storm. Higher-end models have motion sensors, cloud recording capabilities and HD video, such as the smart doorbell that's offered by a.p.i. Alarm Inc.
When used in conjunction with intrusion protection systems, smart doorbells can provide you, your families and Team members with complete protection and peace of mind. a.p.i Alarm Inc's monitoring centre is available to you 24 hours a day 7 days a week, our highly trained Alarm Dispatch centre is there day and night to protect what is most important to you.
OUTDOOR SURVEILLANCE TECHNOLOGY
Thanks to smart technologies, cameras allow users to constantly be aware of what's happening outside of their home or Business. Newer versions of outdoor cameras can detect individuals up to 100 feet away; many have the ability to send footage to your smartphone to notify you immediately.
Rely on a.p.i Alarm Inc. to provide you with a Property Assessment. This comprehensive analysis allows us to design a custom security system that will suit your needs, and your budget perfectly. Our networks can easily integrate with a variety of smart devices on the market, allowing us to cater to your preferences.
If you're interested in any of the solutions mentioned above, trust a.p.i. Alarm Inc. to implement them. From location based services to personalized alerts, we can customize your service to ensure your assets are well-secured.
As the industry continues to advance technologically, trust a.p.i. Alarm Inc. to deliver the very best in residential and commercial security solutions.
For more information on the latest security solutions, please call a.p.i Alarm Inc. at 1-800-897-1039 ext 2245 or you may click here.