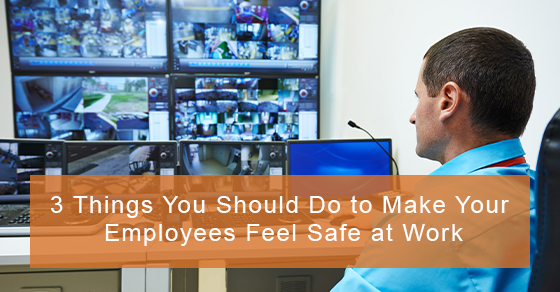 3 Things You Should do to Make Your Employees Feel Safe at Work
Ensuring that your employees feel safe and secure while at work is important for many reasons. By taking measure to protect everyone in the workplace, you can:
Prevent and avoid accidents or security issues.
Increase employees' happiness and productivity.
Build trust and confidence.
Gain peace of mind knowing you've done all you can to keep your employees safe and happy.
Protect your business, including valuable items such as electronics, and any sensitive documents.
It's definitely in your best interests to keep those who work for you safe, and to make them feel safe. If you're unsure about where to start, here are some ideas!
Install Alarm Monitoring Systems
No matter what we do, disaster can still strike. You need to make sure you're prepared, and your employees need to know that, should anything happen, emergency services will be notified and dispatched as quickly as possible. At a.p.i, we provide ULC certified Commercial Monitoring Services. Monitoring services are absolutely necessary when it comes to dealing with emergencies. Make commercial monitoring part of your emergency response plan.
Post Emergency Response Plans
As an employer, it is your responsibility to provide employees with emergency response plans that are clearly visible and accessible. The plan you develop will depend on the type of business you own or manage, as well as the building and other environmental concerns. Emergency response plans usually include:

Conditions under which evacuation is necessary.
Maps of primary and secondary escape routes, and locations of emergency exits.
Emergency contact numbers.
Address and phone number of your business.
Location of emergency equipment, i.e. fire extinguishers.
Employees trained in first aid, and/or in the use of emergency equipment.

All employees should have access to the emergency response plan, and should be familiar with it.

Security Guards
Depending on the nature of your business, a security guard may be necessary to ensure the safety of your employees. Security guards can monitor the people who enter the building, patrol the building, and guard during times when the building is empty, like evenings and weekends. Even just the simple presence of a guard will make your employees feel safe, and reassured that should an emergency arise, help will be on the scene immediately.
There are many other ways to increase safety and security in the workplace. Other services a.p.i. Alarm Inc. can provide for your business include:
For more information, visit our website today. At a.p.i. Alarm Inc., we're serious about safety. Our excellent security services will give you, and your employees the peace of mind of knowing your workplace is safe and secure.